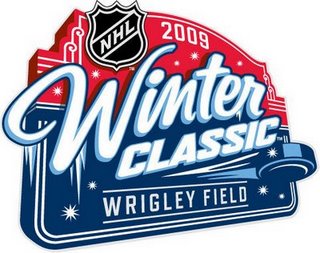 I love the sport of hockey.
I love the Chicago Blackhawks.
It's absolutely amazing the turn-around the Blackhawks have made since the death of Williams Wirtz.
Then came this "Winter Classic" idea at Wrigley Field from the NHL and the Hawks.
At first, I was in awe like most everyone else. I thought the idea of outdoor ice hockey at Wrigley Field was a cool idea and would be a grand spectacle for the entire city to share in.
Now that the details and ice have begun to surface....I've changed my mind about the whole event.
This isn't a spectacle for the city....this isn't about the revamping of the Blackhawks....this isn't a "Winter Classic"......what's so classical about the 3rd ever outdoor NHL hockey game in history? I think when you say classic....you have to have done it more than the last 2 years. Hell...the first time the NHL tried outdoor hockey....did anyone notice or tune in?? Ah....no. The best team in the NHL this season is the San Jose Sharks.....will they ever host a "Winter Classic?" Of course not.....they can't. The average temp in early Jan. is mid 50's for San Jose.....no way you can keep ice solid in that kind of weather. This is a game that counts in the standings....but does the average fan have a shot at going to this fan friendly event? Nope.
The NHL ran the ticket sales for this event....here's the FAQ sheet on getting tickets for the game from the Blackhawks website (
http://www.chicagoblackhawks.com
)
Question #1: I am a current Blackhawks full season ticketholder. Will I have tickets to the game?
The Blackhawks are proud to be able to offer current season ticketholders -- and new season ticketholders, based on availability -- the right to purchase tickets for the Winter Classic. Season ticketholders will be able to purchase up to the same number of tickets to the Winter Classic as they hold for the rest of the season, subject to any ticket limit set by the NHL.
NOTICE: 2008-2009 SEASON TICKET PRICES!!!
2008-09 Price
Location
$660
300-Level Tickets:
Sections 304-308, 310-314, 321-331, Rows 8-17; Sec. 301-303, 332-334, Rows 13-17
$1,188
300-Level Tickets:
Sections 304-314, 321-331, Rows 1-7; Sec. 301-303, 315-320, 332-334, Rows 8-12
$1,760
300-Level Tickets:
Sections 301-303, 315-320, 332-334, Rows 1-7
$3,640*
Lexus Club Level (200-Level) Tickets:
Sections 204-214, 221-231, Rows 1-8
$4,080*
Lexus Club Level (200-Level) Prime:
Sections 201-203, 215-220, 232-234, Rows 1-8
$3,740
100-Level Tickets:
Sections 103-104, 108-109, 114-115, 119-120, Rows 3-19; Sections 105-107, 116-118, Rows 12-19
$5,500
100-Level Prime Tickets:
All Sections, Row 2; Sections 101-102, 110-113, 121-122, Rows 2-19; Sections 105-107, 116-118, Rows 2-11
$12,540
Platinum 100-Level Tickets:
All Sections Glass Seats, Row 1
So, it'll at least cost you $660 dollars to have a SHOT at getting Winter Classic tickets. Season ticket holders of the Blackhawks only have a SHOT at getting tickets to this game. The people who have stuck with the Hawks through the dark days of this current century....who have supported the once "worst franchise in professional sports" only have a SHOT at going to his "historic" event.
Single Game Tickets.....NOT SOLD TO THE PUBLIC.
And if you wanna even try getting tickets on stubhub or any other ticket service....hope you have an American Express Black Card. Prices range from 200.00 to 15,000.00 a ticket.
For a league that is trying to reclaim it's image (post-strike) and get new young fans to watch the game and enjoy the game.....this isn't exactly the way you wanna celebrate the game by outpricing it for the average Blackhawk fan to even attend. A stadium full of sponsors and season ticket holders isn't the way to promote your game.
So, when you see sponsor after sponsor flashed on your screen and painted on the ice and boards as well as the ivy on the walls of "historic" Wrigley Field as rich corporate america smiles and waves at you from the stands.....remember all in all.........
It's Just A Fucking Hockey Game.
-RoCk