CUBS FANS!!  It's been a bad year.  A year filled with utter disappointment, not meeting extreme expectations and seeing highly talented baseball players fall into the spiral that is a collective slump.  It's been rough and being a Chicagoan, we all know what utter pain you all are feeling.  However, in desperate times you cannot lose your focus.
Sure Milton Bradley hasn't exactly panned out like you had hoped.  In fact, he did exactly what you expected...right?  Alfonso Soriano hasn't changed a bit, has he?  He's still the free swinging left fielder whose defense could be termed as lackadaisical.....and that's being nice.  You still have Kosuke Fukudome who's 15 million a year just seems not worth it even though this year at (.258  11hr 51 rbi) isn't much better than the year previous.  Mike Fontenot starting at second base...ugh.  The question every time a season like this one happens is "Time to clean house."  "Get rid of this guy."  "How bout we trade ________ for ______ and a bag of balls."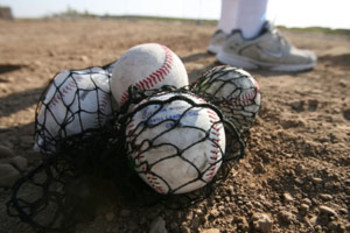 This week there was a report by
Paul Sullivan in the Chicago Tribune
, the Cubs are looking to shop Carlos Zambrano this upcoming off season.  Now, a Cubs fan's first thought would probably be one of the ones which I've already stated.  Slow down Cubs fans.  Do you realize however that of the 3 players mentioned above, Big Z is probably the most talented of the bunch.  Zambrano not only has the biggest potential of the big locked in contract guys, but he's also the most valuable.  Why would you trade away gold when there's other trash you can get rid of?
Zambrano this year hasn't been good....that's a given, but look at the overall #'s for Zambrano.  In his career, Big Z is 104-67 with a career ERA of 3.52.  He averages 212 innings pitched a year and hovers around 180 strikeouts a season.  Not to mention he's one if not the best hitting pitcher in the senior circut.  How can you get rid of that?
Sure his maturity level may be questionable and his antics may drive you completely insane, but the overall picture here.....isn't he part of the Cubs future.  How often do the top payrolls in baseball get rid of their top talent?  ALMOST NEVER!!!  Zambrano is the type of pitcher that can totally dominate an outing.  Big Z is a stopper, but why get rid of him over the likes of Bradley, Soriano, Fukudome, etc???
Is it just because he's the only one of the bunch that teams may actually go after??  He'll be making the same amount of money per year that Soriano makes next season.  It's big bucks and only the teams that spend are going to be the ones going after him.  I just don't understand the mentality that when you have a pitcher who PRODUCES (although maybe not to your liking this season), it's just about time to pack his bags and leave.
This is a guy who has finished in the top five in the Cy Young award voting 3 of the last 6 years not to mention he's only 28!!!  He's still not in his "prime" yet and most Cubs fans want to erase the blackboard and start fresh.  Just insane!!!
How soon Cubs fans forget that for the last 7 years he's been the Cubs most durable, most productive, and best starting pitcher the franchise has had.  So he's an ultra d-bag at sometimes, so what?   Of all the home grown prospects the Cubs have shuffled out there in Jim Hendry era....he's the ONLY one that has panned out to some sort of success.
Is it time to clean out his locker?  Is it time to get him out of town?  Is it time to trade him for ______ and a bag of balls?  Settle down Cubs fans and look at what the real problems are.
-RoCk
twitter.com/rock_mamola
twitter.com/joeoandrockshow
facebook.com/joeoandrockshow
facebook.com/rockmamola