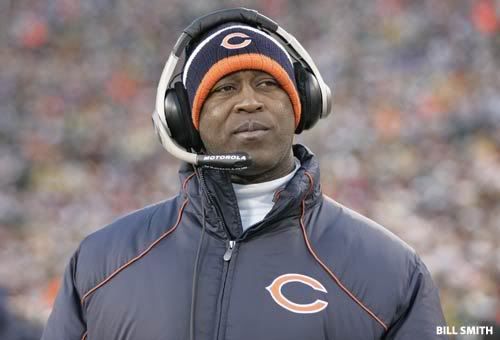 The best part of the NFL season for me isn't the last 3 weeks when teams position themselves for the playoffs. It isn't when the grandest stage is set for the biggest sporting event of the year takeing place in some southern city or a dome that doesn't have a rooting interest besides how much money the city will make from it. It isn't even the day when the top talent from college make way to the NFL at the draft. My favorite part of the season is when the 32 teams get their upcoming seasons schedules and you can go through and mark W or L next to the opponent and figure out how you believe your team will finish based off the previous season.
Let's face it, this past offseason....very few of us thought the Bears would win more than 6-8 games. I personally had the beloved finishing with a stellar record of 5-11 and thought for sure that Rex Grossman would be the starting quarterback and rookie Matt Forte would amount to nothing in his rookie year. I thought the Bears would start slow with their first two games on the road against Peyton Manning and the Colts and Jake Delhomme and the Panthers losing both of course. Then I thought they would return home to face Tampa Bay and win followed by a beatdown at the hands of Donovan McNabb and the Eagles.
To put it mildly, my first four game prediction.....wrong on 3 out of 4.
The Bears stunned a Sunday night football audience beating Indianapolis in their new home, went into Carolina and laid an egg. The went on and lost their homecoming against Tampa Bay and found some way to beat the hometown kid McNabb.
My predictions were wrong. Hell they've been wrong mainly all season long but yet there are alot of people who have been wrong about this team and for some reason won't admit it. So without any hesitation....I was wrong.
So, where does that leave this team. They're 6-5 with 5 to play and yet no one wants to give this team a shot at winning the NFC North and getting a home playoff game. Why? Are Bears fans so frustrated with the style of play they've been seeing all year to sorta hope in their heart of Bears' fan hearts that they find a way to screw it up? Do Bears fans relate to Lovie Smith and this coaching staff at all taking it at a one-game-at-a-time approach laid back, not too emotional, cliche driven demeanor.
Some Bears fans want the yelling, screaming, holding people accountable type of coach, but will that win football games or just please the fans for something they haven't had since a certain coach Ditka was around?
In 2006, I was praying for the Bears to win the Super Bowl like all Bears fans were....just to erase the notion that you need to be a hard nose tough guy coach in this town to win with the Bears. Erase that 1985 memory that so many former players/coaches have made a fortune on. The NFL is a different game now and the more and more fans look to the past to win todays' NFL game...the longer it will be before we have another championship for our beloved in this town.
Lovie Smith is a good coach in the NFL. Looking at his career record of 39-28 with 2 division titles and 1 super bowl appearance....why are some Bears fans enraged about the same things that they were complaining about in 2004? Granted never meeting the man, he's not a very energetic guy from what i've seen....but it works. You need to allow this man to work with the pieces he's been given rather than harp that Lovie needs to start yelling and screaming and show some fire and passion. What good would it do now to pull Devin Hester off punt returns and go all "Singletary" on him? Seriously.
This season has been anything but easy for Lovie and yet in the middle of a playoff push, people wanna bitch about his demeanor on the sidelines based on what they've seen on TV? You need to give Lovie a break and get behind this coach. The Bears may not be what you thought they would be this year.....but Lovie Smith more than anyone has proven that predictions are meaningless in the NFL. Get over it Bears fans!! You were wrong, just like I was wrong, just like your sister-in-law was wrong. With 5 games left and a real good shot at winning the division, let's concentrate on what really matters.